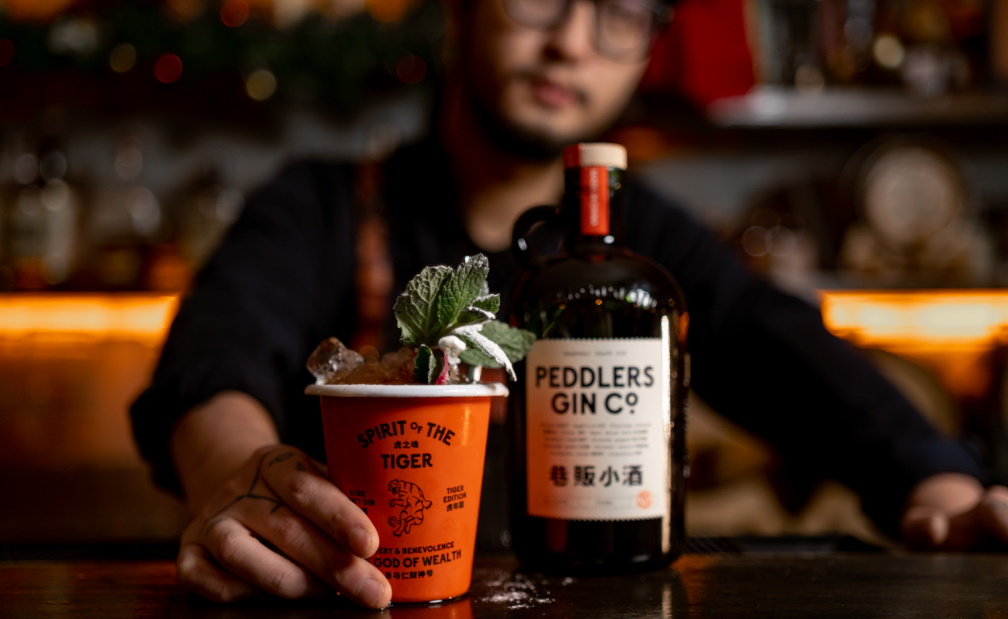 Born on the backstreets of Shanghai, with an exotic blend of ingredients that scream East meets West, Peddlers Rare Shanghai Gin has this month released an entirely new product bundle that truly champions their cultural heritage. In celebration of Lunar New Year, the calendar shift that welcomes the Year Of The Tiger come February 1, Peddlers is now stacked on shelves in very distinct Lunar-inspired packaging.
The king of the jungle, the striped god of wealth, Peddlers are looking to honour the strength of the tiger with this new offering. For a limited time only, you can purchase this award-winning artisanal spirit with a complementary enamel cocktail drinking vessel, for you to quite literally experience the spirit of China. Emblazoned with illustrations and insignia, this fire red cup bleeds into the narrative of Peddlers Rare Shanghai Gin as the first craft gin to emerge from China; more specifically the curated chaos that exudes from the world's largest trading port.
Distilled in a country with more diversity in ingredients than arguably any other continent, Peddlers is infused with notes of: Sichuan Pepper, Buddha's Hand, Lotus Flower, Chinese Mint, Guangdong Liquorice, and Coriander Seeds. Each of these organic botanicals foraged from unique locations across China to bring to life this hand-crafted spirit, and tell a sensory story of the diversity of flora and fauna found in the East; a homage to China's rich culinary history.
Brave and benevolent are two key terms used to describe this Lunar New Year's beast and zodiac, the tiger, as well as the way this spirit presents itself to even the most discerning of drinkers. Encouraging consumers to indulge in their customs and bestow luck upon themselves for the 12 moons ahead, Peddlers have also released recipes for a couple of their signature cocktails: Sichuan Negroni, Peddlers Apollo, and the timeless Peddlers and Tonic.
A chance to metaphorically escape to the streets of Shanghai, and experience such bountiful culture, Peddlers Rare Shanghai Gin x Lunar New Year limited-edition bundle is now available for $88 RRP at leading retailers: Dan Murphy's, BoozeBud, The Wine Collective, and select David Jones. 
ENDS
Spirit Of The Tiger Recipe Collection
45ml Peddlers Gin
10ml Fresh lemon juice
20ml Grapefruit juice
Top with Soda
45ml Peddlers gin
20ml raspberry syrup
30ml lemon juice
Serve over crushed ice
30ml Peddlers Rare Shanghai Gin
30ml Campari
30ml Sweet Vermouth
Pour into a shaker with ice. Stir.
Rub orange peel around the rim of a short glass filled with ice. Strain liquid into glass.
Garnish with orange peel and a dusting of sichuan pepper.
ABOUT PEDDLERS GIN
With organic botanicals foraged from exotic locations across China, Peddlers Rare Shanghai Gin is the very first of its kind. Following a unique production process, you'll find infused flavours of Sichuan pepper, Buddha's Hand, lotus flower, and Yunnan mint, unlike any other gin blend. Distilled in a country renowned for its diversity in produce and cuisine, Peddlers is perfectly crafted for the discerning and adventurous spirit drinker.
With complex, organic ingredients that tell a story of the beauty and diversity of China, Peddlers Gin forage for their botanicals in unique locations across China, embracing the natural flora to create a truly distinctive craft gin.
Peddlers Rare Shanghai Gin has been awarded Silver at the San Fran World Spirits awards, and Gold at the CWSA.