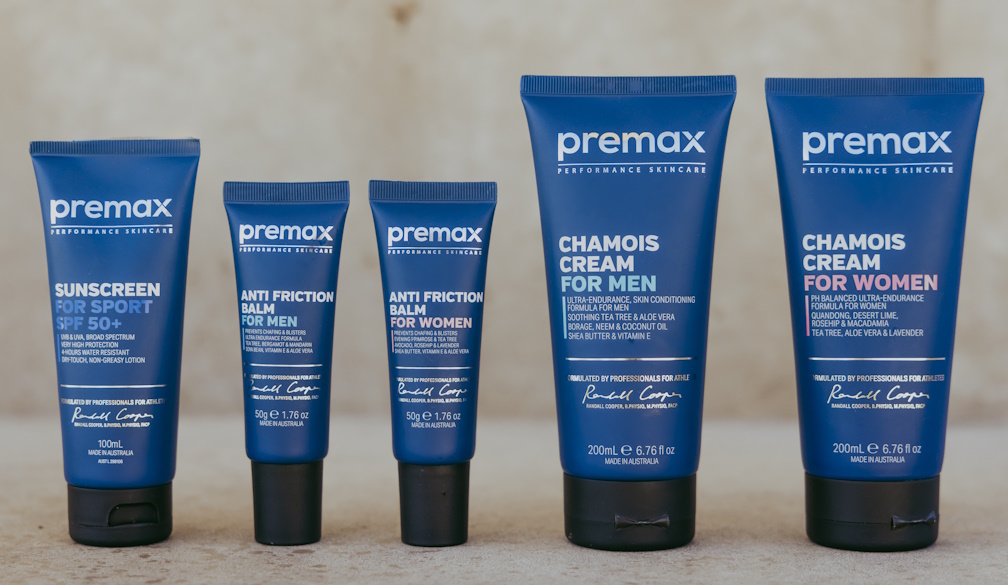 While we often prioritize warming up our muscles and working on our fitness before training, how often do we think about the fitness of our skin? At Premax, we're on a mission to change that mindset, because we believe that when it comes to skincare for athletes, prevention is better than cure.
The Foundation of Premax: Meeting Athletes Needs
My journey with Premax began with solving a real problem. As a sports and exercise physiotherapist, I witnessed athletes and patients grappling with skincare products that just didn't cut it. They were greasy, distracting, and worst of all, pore-clogging. It became clear to me that there had to be a better way, so I set out to create it.
Years of Dedication: Research and Testing
Creating high performing skincare products isn't something that happens overnight. It took years of relentless research and testing to develop our initial product line. I worked closely with a dedicated team of chemical engineers, athletes, and sports medical professionals to formulate products that are not only effective but also safe for your skin.
Our Commitment to Your Skin's Health
At Premax, we've made it our mission to prioritise skin health in the world of sports and exercise. With the approaching Australian summer, it's essential to be proactive about issues like chafing, blisters, saddle sores, sun damage and wind exposure. These not only hamper your training but can also lead to long-term skin problems like premature aging and skin cancer.
My number one tip for exercising outdoors: treat your skin just like any other organ in your body for sports—prepare, perform, and recover.
What Sets Premax Apart?
What sets Premax apart from the rest is our athlete-led approach to product development. We collaborate with elite athletes and teams worldwide to craft each formula from scratch. Thorough testing alongside these athletes ensures that our products not only meet but exceed the demands of the world's best, offering you an unparalleled skincare experience.
Rigorous Testing for Quality Assurance
Our commitment to quality knows no bounds. All our products undergo rigorous testing that surpasses even the most stringent EU and ANZ standards. Once we're confident in their quality, we entrust them to our exceptional athletes for real-world trials. Rest assured, our products are always tested on athletes, not animals.
Why Premax Should be Part of Your Pre & Post Exercise Routine
Premax Performance Skincare products are essential for athletes of all skill levels. They help protect your skin and hair from the rigors of exercise and sport, and they can also improve your performance and recovery.
**Anti-Friction Protection**: Premax Anti-Friction Balms prevent chafing and blisters, common issues for athletes.
**Sports-specific Sun Protection**: Premax Sunscreen for Sport SPF 50+ shields against both UVB and UVA rays, offering protection against premature aging and skin cancer. Plus, it's light and dry, allowing your skin to breathe.
**Skin Recovery after Exercise**: Premax Recovery Cream reduces skin inflammation and soreness, accelerating repair after exercise. Get back to training faster.
**Hydration and Protection**: Premax De-Chlorine Shampoo and Conditioner safeguard your hair from elements like salt water, chlorine, and that dreaded green tint, making it perfect for athletes who train in diverse conditions.
We're passionate about the importance of making informed choices about what you put on your skin before and after exercise, because Premax is not just about skincare – it's about supporting your peak performance.