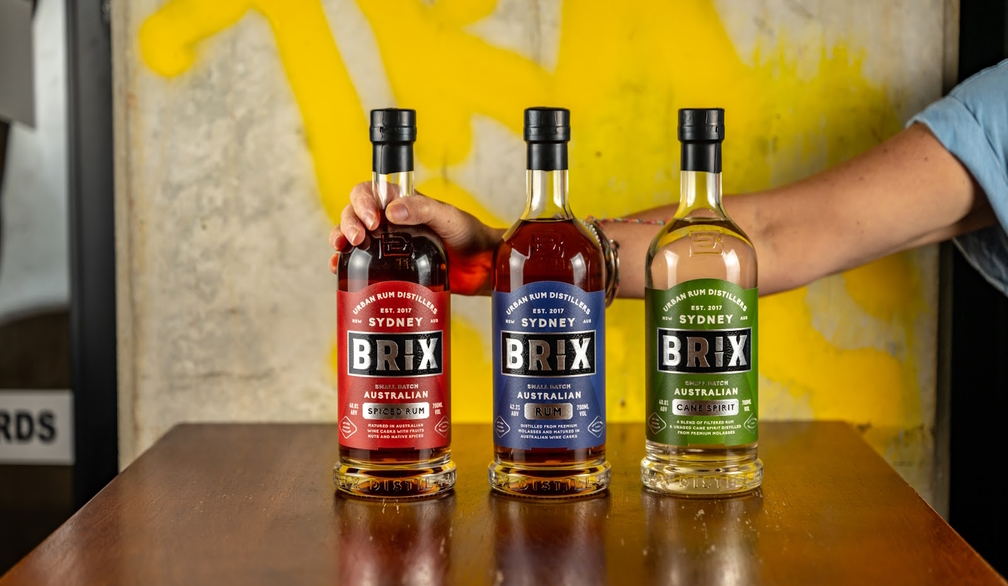 5 Years In The Making, Brix Unveils All New 100% Australian Rum
Rum enthusiasts rejoice, Australia's Rum Reinvention continues with Brix unveiling their NEW look Core Range 
Brix has come of age, and so has their rum! 5 years in the making, the Brix Rum renaissance continues, today Sydney's only dedicated craft rum distillery, Brix unveils their NEW look Core Range of 100% Australian Rums.
For the last 5 years, Brix have been on a mission to reinvent Australian rum. In an effort to challenge the misconceptions and clichés of pirates, polar bears and tattoo's, the team set out to educate Aussies on how to best embrace rum, beginners or aficionados alike. Housing three distinct spirits across their traditional rum range, Australia is now fortunate to have a premium Australian rum to call our own, all crafted with Australian ingredients & matured in Sydney in local wine casks.
The Brix Core Range is made for cocktail mixing, but still holds its unique ability to maintain its complexity for those who prefer to drink it on the rocks or even with their fave mixer. The all new, 100% Australian Core range is made up of three distinct products; 
Brix Australian Rum aged in Australian red wine casks for 3 years and bursting with flavour notes of pastry, baking spices & light oak balanced out with aromas of vanilla caramel and stonefruit. A new approachable vision for Australian rum.
The full-bodied Brix Australian Spiced Rum has first been aged in local red wine casks and the infused with local spices, fruits and nuts. Think Aussie pavlova, Jaffas at the movies and fruit & nut chocolate. With a touch of sweetness and a lingering depth of spice on the palate, it's the dynamic duo of bold flavour and subtle smoothness.
For those with a lighter palate, the fresh and light Brix Australian Cane Spirit, is crafted from premium Australian molasses and is sourced from the cane-fields of Queensland. Encompassing a 30% portion of aged rum, removing its colour through charcoal filtration, adding a boldness and further depth of flavour to its profile. Perfect for your mojitos, daiquiris & pina coladas at home!
"After 5 years of Australian rum education, appreciation and celebration, Brix is now able to release the local Australian rums we have been striving to produce along the first part of our long Rum journey. We have always challenged ourselves to create delicious products that allow the consumer to discover a new way of appreciating Rum. When made with love and care, great local ingredients, a master craftsperson at the helm and loads of passion, Rum can be adored alongside the great spirits of the world. With enough mature stock on hand to send around the country, we are ecstatic to say that now, we can seriously begin to achieve what we set out to do. Reinvent Australian Rum." - James Christopher, Co-Founder at Brix Distillers
Having a barrel of fun along the way, Brix have matured, and the new Core Collection highlights this, with new-look sleek, sophisticated bottles and redesigned labels showing full product transparency. Revamped branding featuring an elevated new logo, refined brand assets and sophisticated simple serves cement Brix's transition from fresh and fun, to modern, forward-thinking rum creators.
Best enjoyed neat or on the rocks, all three of the Brix Core Range are also considered fantastic rums for cocktail making occasions. Try your hand at a Rum Old Fashioned, a Spiced Rum Espresso Martini or classic Mai Tai, with the amplified flavours of the entire Brix range bringing new life, and maturity to these rum-based classics. 
The BRIX Core Range is available for purchase today, $80RRP, via BRIX distillers online store, leading retailers, or from the Surry Hills distillery. Head to www.BRIXdistillers.com to find out more.