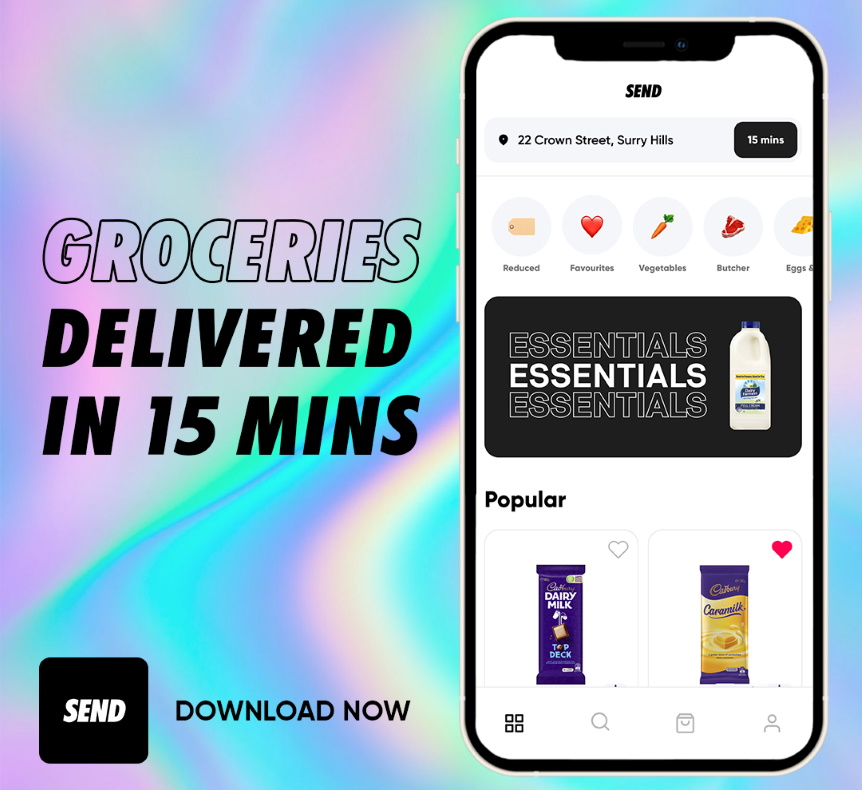 From The Store To Your Door Faster Than Ever

SEND is the future of food delivery, forget your traditional supermarket


Reinventing the humble supermarket, SEND is an Australian exclusively online, delivery only supermarket, changing the way Aussie's shop for groceries. Championing convenience at its core, users are able to browse and select goods via the SEND app, with a guaranteed delivery in fifteen minutes or under - the time it would usually take you to write the shopping list itself. 
Ditch the trolley, this is the contemporary, tech alternative to your traditional supermarket visit. There's no denying, we as consumers like things fresh and fast; SEND simply means you can tick off one mundane household chore and get on with the rest of your day. Avoid the after-work rush, skip long lines, and god forbid you forget the mayo mid-way through making burgers...SEND will restock the pantry, stat, with local produce at the same retail price. 
Preparing home cooked meals is officially trending thanks to the pandemic. Considering current life restrictions, this simple fact was inspiration enough for SEND Founder, Rob Adams, to create a platform built to thrive in this new world. Thinking more so about vulnerable members of the community, Rob's grandmother front of mind throughout the ideation phase, SEND is a safe and reliable solution for any individual seeking a contactless and convenient way to complete the weekly shop. 
"SEND is redefining the way an entire generation shops for groceries and daily essentials, making it possible to get the things you need delivered in under 15 minutes", says SEND Founder, Rob Adams. "After witnessing such huge success for fast-paced grocery services in other markets including Europe and USA, we're super excited to begin servicing pretty much all the suburbs in and around Sydney and Melbourne CBD with our sights firmly set on a national offering."
Whether you're chasing that last minute ingredient, throwing an impromptu get-together (post-lockdown), or simply feeling a little lazy, the ability to summon food, drink, and household supplies from your literal fingertips has never been easier. With the anticipated construction of several dark kitchens across both Sydney and Melbourne CBD, each SEND Shop will aspire to hero and support local producers and small businesses with their unique grocery offering. 
There are of course your on-demand delivery platforms like UberEats, Deliveroo, MenuLog, the list goes on. However, their markup and wait time are simply no match for SEND. On the other end of the spectrum, you have grocery subscriptions from retail giants Coles and Woolworths, yet their 3-4 day wait isn't nearly as appealing as SEND's guaranteed sense of immediacy. 
"Australian supermarket giants promote the idea of a big weekly shop; however, consumers don't have time to curate long lists of groceries and spend hours shopping. SEND addresses this gap in the market by making it possible to get what you need when it comes to mind, removing the element of planning ahead", furthered, Rob Adams, Founder of SEND.
Expect to see designated 'SEND Shops' cropping up across the nation throughout August 2021 and beyond, starting with Alexandria (LIVE), Potts Point, and Camperdown, Sydney and Southbank, Melbourne (LIVE end of September). The SEND team is aiming to establish thirty locations by the turn of the new year. 
The future of food delivery is officially here. Download the SEND app (search for Send grocery) today via the Apple App store or get it on Google Play. For more information and for regular updates on new SEND Shop locations, head to @send_app or sendappaus.
Deliveries can be made up to 2km from each SEND Shop location. 
Current SEND Shop delivery locations include: 
Sydney
Kings Cross
Potts Point
Paddington
Surry Hills
Elizabeth Bay
City CBD
Ultimo
Redfern
Waterloo
Zetland
Alexandria 
Moore Park
Beaconsfield
Newtown
Stanmore
Camperdown
Glebe
Melbourne
South Melbourne
Albert Park
Southbank
CBD
Instagram: @send_app 
Website: www.sendapp.com.au
Facebook: https://www.facebook.com/sendappaus 
LinkedIn: https://www.linkedin.com/company/sendapp/
ABOUT SEND:
SEND is on a mission to reinvent the humble supermarket and change the way Aussie consumers shop for one of life's most basic daily needs: groceries. SEND is Australia's first exclusively online, delivery only supermarket, designed to send goods to people in 15 minutes and under, as opposed to physically receiving them in store. SEND'S 'SEND Shops', are a contemporary solution to avoiding the crowds, eliminating the lines, and returning countless hours back into the day. Order your groceries in seconds at retail price, delivered in a matter of minutes from a local SEND Shop. 
Groceries reinvented. Download the SEND app today via the Apple App store or get it on Google Play.