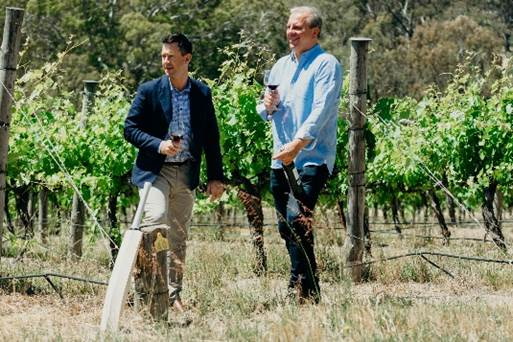 If you have been a bit slow on getting your Father's Day gift this year then this is for you! In an iconic Aussie collaboration, Qantas Wine has teamed up with cricket legend Ricky Ponting to host Ponting Wines' first ever virtual wine tasting event just in time for the last-minute Father's Day gift scramble. The cricketing legend will talk through his journey from Australian cricket captain and one of the country's best batsman to winemaker.
Ponting created his own label Ponting Wines in collaboration with award winning South Australian winemaker Ben Riggs who used his 35 years of experience to create the exclusive range of Ponting vintages which includes Chardonnay, Shiraz and Cabernet.  Ricky Ponting said he is keen to share his experiences in, and knowledge of, cricket and the world of wine, with Qantas Frequent Flyers – and yes, you'll be able to ask questions too!
"I was lucky enough to have a cricketing career I was passionate about and now a wine brand I'm also passionate about. So much goes in to getting wine to our table, it's truly a labour of love and, like cricket, Australia does wine-making brilliantly on the world stage. Ben Riggs, our expert winemaker will join me as we take Qantas Wine customers through a selection of our wine, exploring the various varietals and touching on the stories behind the wines."
Qantas Frequent Flyers can buy their Dad's (or themselves) an eligible Ponting Wine pack from Qantas Wine and will receive an invitation to the virtual event to be held on 20 October 2021. Tasting wines include the Ponting First Session Sauvignon Blanc 2020, PONTING The Pinnacle McLaren Vale Shiraz 2018 and PONTING Close Of Play Langhorne Creek Cabernet Sauvignon 2019. Ponting Wines pricing via Qantas wine start from $18.75 per bottle in a case of 12.
Qantas Wine will deliver the wine straight to Dad's home ahead of the wine tasting. More information about the virtual tasting event and how to book can be found here.