In partnership with Nomad Brewing Co, Darrell Lea creates the perfect gift that has dad's two favourite worlds - beer and liquorice - collide.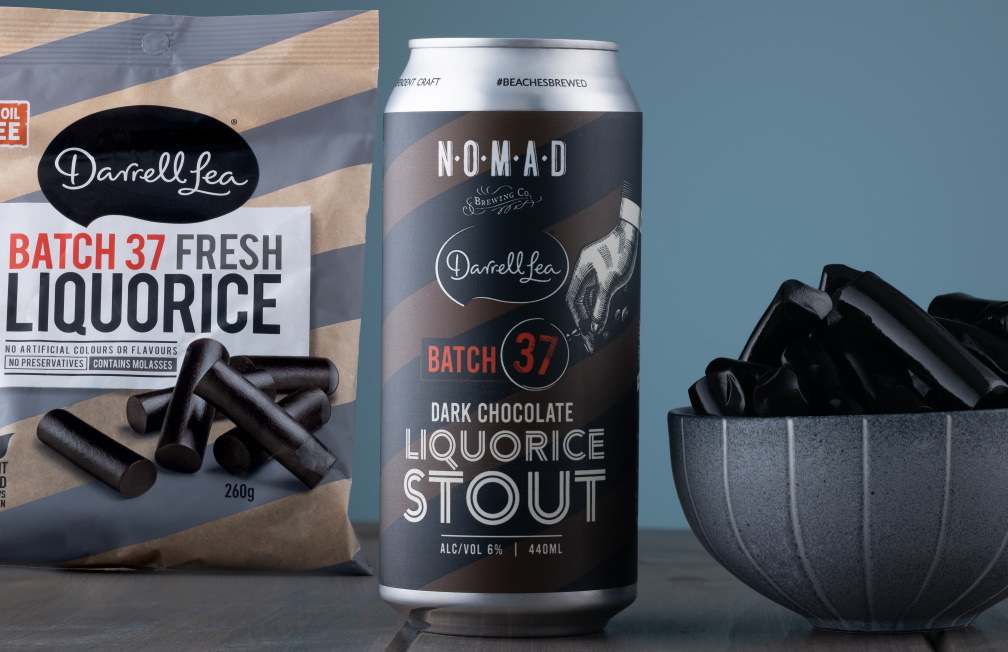 Darrell Lea Batch 37 Dark Chocolate Liquorice Stout with Darrell Lea Batch 37 Liquorice 
Father's Day is just around the corner, for those who are looking to impress dad with something different, Darrell Lea, the iconic Australian confectionery company, is making it better this year with the world's first limited edition liquorice beer - the Darrell Lea Batch 37 Dark Chocolate Liquorice Stout.
In partnership with Aussie brewery, Nomad Brewing Co, the beautifully bitter dark chocolate liquorice stout is rich and creamy, infused with Darrell Lea's iconic Batch 37 liquorice, and a hint of natural liquorice flavour. 
The two Sydney based companies decided over a pint and some Bullets, that because Darrell Lea's been making it better since 1927, it could spare some of the 40,000 kilometres worth of liquorice it produces each year, for a bespoke creation that will give thousands of Aussie dads a memorable Father's Day. 
"Every Father's Day, our liquorice range, including the iconic Batch 37 and Bullets, are Aussies' top choice for gifting. Many dads are big fans of our liquorice products, and what better way to say cheers to our dads than combining two of their favourite things?" said Johanna Campbell, General Manager, Marketing at Darrell Lea. 
"For almost a century, Darrell Lea has been helping generations of Aussies create memories and shareable experiences with loved ones. Our soft-eating liquorice is a testament to our original recipe that is truly generational."
Brewed in the heart of Brookvale on NSW's Northern Beaches, the unbeerlivable liquorice stout will be poured just in time for 5 September (that's Father's Day, guys). 
"At Nomad, we're passionate about pushing the limits and discovering new tastes. I grew up munching on Darrell Lea's liquorice Bullets as my father used to own a pharmacy selling Darrell Lea products, so this collaboration really resonates with me a lot! We're thrilled to work alongside an iconic Aussie brand to bring to life a craft beer that will excite many liquorice fans." said Kerrie Abba, Owner of Nomad Brewing Co. 
The Limited Edition Darrell Lea Batch 37 Dark Chocolate Liquorice Stout are now available via Nomad's website and for purchase nationwide in select retailers and online for RRP AU$11 per can, $45 per 4-pack when purchased via Nomad. You can also receive a bag of Darrell Lea Batch 37 Liquorice gift with every purchase via the Nomad website or brewery. 
To top it off, the Darrell Lea's Batch 37 liquorice, milk chocolate and dark chocolate Bullets, Allsorts and Twists will also be available on sale nationwide in all major supermarkets and retailers. 
— 
About Darrell Lea Batch 37
Our famous soft-eating black liquorice was invented in 1957. Founder Harry Lea gave out the liquorice for free in brown paper bags and found that people really enjoyed it. Darrell Lea's Batch 37 Fresh Soft Liquorice is the current day version of that recipe.
About Darrell Lea
Founded in 1927, Darrell Lea is an iconic Australian confectionery company loved by millions across the country. Crafted in Australia, by Australians, for Australians, Darrell Lea has been making the finest chocolates, freshest liquorice and most delectable confectionery for almost a century, helping generations of Australians create memories and shareable experiences with loved ones. Its most famous creation is soft-eating liquorice.
 
Darrell Lea's range of delicious products filled with yummy, crunchy, gooey, chewy bits includes chocolate blocks, balls and bullets, Rocklea Road, Liquorice, Allsorts and Lifesavers. The company uses 100% sustainability sourced cocoa and in 2020, proudly became the first major supermarket confectionery brand to move to 100% palm oil free in all its products.   
 
Darrell Lea employs over 500 people across New Zealand, Australia, and USA and sells at its own stores in Ingleburn and Rowville as well as over 1,000 other outlets across Australia, NZ and in the US. 
 
The company continues to be inventive, delighting consumers everywhere with new delicious recipes and flavours that are making life's moments better with every bite and helping Aussies today create memories for tomorrow. 
 
For more information, visit https://dlea.com.au/.  
 
About Nomad Brewing Co.
Kerrie Abba and Johnny Latta, are a husband and wife team from the Northern Beaches, owners of Australia's largest craft beer distributors, Experience IT beverages and Nomad Brewing Co. Taking lessons from Italy's best brewers and craft beer, Nomad Brewing Co has a mission to never be restricted by fashions and trends and to use Australia's amazing native ingredients. Nomad Brewing Co and their team continue to be restless, driven by discovery of new tastes, beer knowledge, experiences and the people that make craft beer great. 

Darrell Lea Batch 37 Dark Chocolate Liquorice Stout Stockists
National


Nomad Brewing Co. - Online Retailer
WA
Copper and Oak Liquor Merchants
Mane Liquor
Sip n Save Cellars West Beach
SA
Goodwood Cellars
Edinburgh Cellars
Old Spot cellars

VIC
Black Hearts and Sparrows
Hop Heads
Carwyn Cellars
Beer 360
Grape and Grain Cellars
A Point of Difference
Slow Beer
NSW
Boozebud- online retailer
Beer Cartel
Bayfields Dee Why
Warners at the Bay
Helensburgh Premium Liquor
Charlies Liquor Barn Tahmoor
Tom's Cellars Turramurra
Bomaderry Super Cellars
Page Bottler
Oak Barrel - Sydney City
Cringila Cellars
Justin Lil Wines
Cromer Cellars
Liquor Emporium St Peters
Bourke St Wine Shop
Murray's Glenbrook Cellars
North Curl Curl Cellars
Camperdown Cellars Darlinghurst
IGA Warriewood
Commodore Hotel Bottleshop
Super Cellars Warilla
Porters Liquor Balgowlah
ACT
Plonk