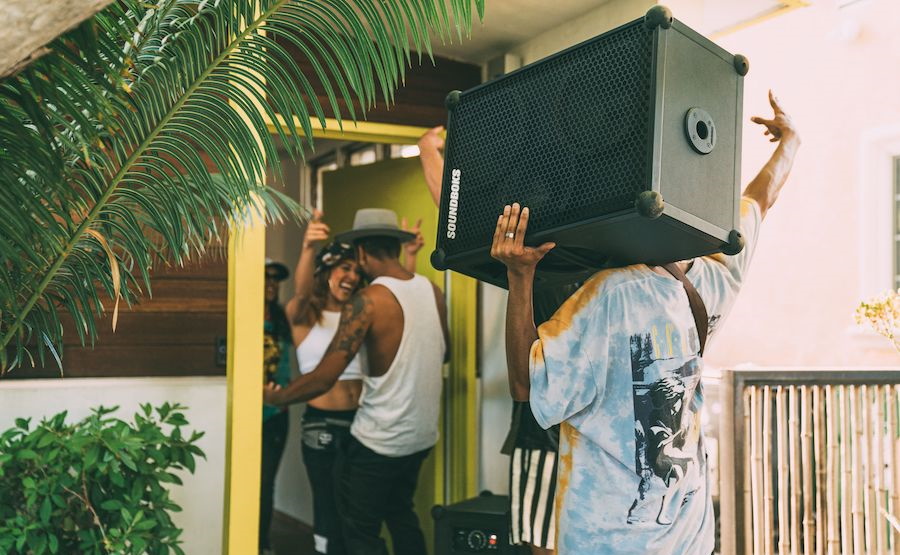 Reminiscing on a life of live music, spontaneous pub sing-a-longs and nightclub crawls? As much as we can hope that those things are right around the corner, it would be a shame to boycott dancing until then.
Luckily, here in Australia, we pride ourselves on our house parties, bonfires and backyard shenanigans, with a talent of 'bringing the party to us'. These iconic occasions would not be the same without being accompanied by the perfect soundtrack.
Who needs the clubs anyway? With the right portable speaker, you can bring high-quality sound (and high-quality vibes) anywhere you so please.
SOUNDBOKS (Gen.3) Bluetooth Performance Speaker
If you're going for that 'nightclub at home' feel, then look no further. This newest release from SOUNDBOKS is the world's loudest portable Bluetooth Performance Speaker. In this case, bigger does mean better, with concert-level volume and zero distortion, you're guaranteed to be impressed by this immersive listening experience. Take the sound wherever you like, as this night-club quality speaker weighs only 15kg, with 40-hour battery life - the longest battery life on the market. This speaker is for serious partiers only.
RRP: $1599.95
Where to buy: SOUNDBOKS.com.au or JB-HI-FI
SONOS Move
Not only is the SONOS Move water-resistant and drop-proof, but the cordless design and built-in handle make it pretty easy to see why it's named 'move'. A portable speaker designed for moving from room to room, out to the backyard, or even to the beach, bringing the premium sound every step of the way. Simply connect to Bluetooth or Airplay to get the good times started, or you can even ask Alexa. The Move is a bit bigger than your usual speaker, with an 11-hour battery life that makes it perfect for those house parties that fade from day into night.
RRP: $699
Where to buy: Sonos.com, Harvey Norman, The Good Guys or JB-HI-FI
Ultimate Ears Megaboom 3
Looking for something a little smaller, without sacrificing sound? Then the UE Megaboom 3 is the way to go. This speaker can still fit in one hand while blasting clear 360° immersive sound. Described as 'virtually indestructible', if you tend to get a little crazy once the bass starts pumping, the Megaboom is water, dust and drop-proof. Did I mention it can be submerged in water for up to 30 minutes, and it floats? Perfect for those summer pool parties. A 20-hour battery life, and easy to use, there aren't many downsides to this speaker.
RRP: $299.95
Where to buy: Ultimateears.com, EB Games, JB-HI-FI, Harvey Norman, The Good Guys
JBL Charge 5
The JBL Charge 5 has all the benefits you want in a portable speaker, along with a price tag on the cheaper side. This JBL speaker is equipped with dual bass radiators, guaranteed to deliver rich audio no matter your location. Indoors or out, it is water-proof, dust-proof and can play up to 20 hours of music through Bluetooth so you don't even have to lift a finger. Still not loud enough? JBL PartyBoost allows you to pair multiple PartyBoost compatible speakers together for added sound. Plus, the Charge 5 comes in five different colours to customise the way you listen.
RRP: $199.95
Where to buy: JBL.com.au, Harvey Norman, Big W, Rebel Sport, OfficeWorks or JB-HI-FI
UE Hyperboom
Ultimate Ears' biggest speaker, the UE Hyperboom is three times the volume and six times the bass of the Megaboom, so it is not here to muck around. The Hyperboom is equipped with impressive technology, with a built-in microphone that can recognise when it is being moved, and automatically balances the sound to fit your space. So whether you're partying inside or out, your audio will never be compromised. Arguing over whose playlist to listen to? Up to four devices can be connected to the Hyperboom at any one time; two on Bluetooth, one auxiliary and one optical input, so you can switch tunes until your heart's content!
RRP: $599.95
Where to buy: Ultimateears.com, EB Games, JB-HI-FI, Harvey Norman, The Good Guys
With some good tunes and a good speaker, you'll wonder why you ever left your house to dance in the first place. Bring the party to you this summer, happy listening!