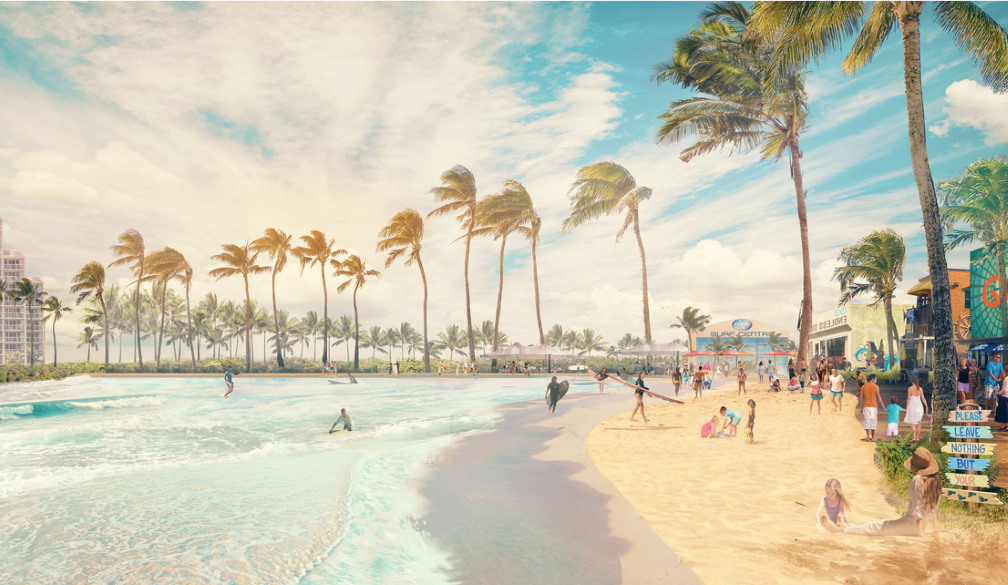 Parkwood is set to become home to a world-class integrated golf and surf resort with the  proposed development of the Gold Coast's first surf park, the 'Endless Surf Wave Lagoon', to sit  alongside the existing 18-hole golf course.  
The proposed plans will complement the Community HUB & High-Performance Centre at  Parkwood Village, with the addition of beach-like lagoon offering quality waves to suit all  abilities, from beginner to professional.  
Parkwood Village managing director Luke Altschwager said they will spend the next few months  working with the community and local council reconfiguring the current approval to  accommodate the Endless Surf Wave Lagoon and upgrades to the golf course.  
"There is nothing more quintessentially Australian than surfing. We want to make sure  Parkwood becomes the heart of sport here on the Gold Coast," Mr Altschwager said.  
"A world-class surf break is a perfect fit for our active community as it anchors a whole new  level of economic investment into the area. 
"Couple this with a multi-millon dollar make-over to the 18-hole golf course and a beautiful  family resort, it will be a game changer!  
"The hope is that by 2023, Parkwood Village will be an exciting sports and family venue, which  will be renowned across Australia, and training the next generation of world golf, rugby league  and surfing champions." 
Destination Gold Coast CEO Patricia O'Callaghan said it was a critical time to develop new  products and experiences to attract domestic visitors to the Gold Coast.
"Not only will this development add to our offering but it's also a prime example of our private  sector backing the Gold Coast through continued investment," said Ms O'Callaghan. 
Endless Surf will be manufactured by WhiteWater, a world-famous Canadian-based wave pool  and water park attraction developer.  
WhiteWater have also announced surf park projects in La Vague Paris, Punta Cana in the  Dominican Republic, Vietnam and more. 
"The Endless Surf technology is on the cutting edge of wave pool technologies. The variety and Quality of the waves is going to truly revolutionise the sport," Mr Altschwager said. 
"A big attraction for us was that WhiteWater is a family run company with an approach to  business much like ours, driven by a sense of community and purpose to provide the very best  experiences that enhance lives."  
Offering safe, predictable and quality waves up to 2.4 Meters in size in a controlled  environment, the Endless Surf Pool is a natural shape that provides a large 'beachfront' for a  genuine surf feel. 
The pool will be complemented by the existing golf course, approved future resort hotel and  food and beverage facilities.  
The Club at Parkwood Village is a well-established leisure destination located in the centre of  the Gold Coast, only 10 minutes from Surfers Paradise.