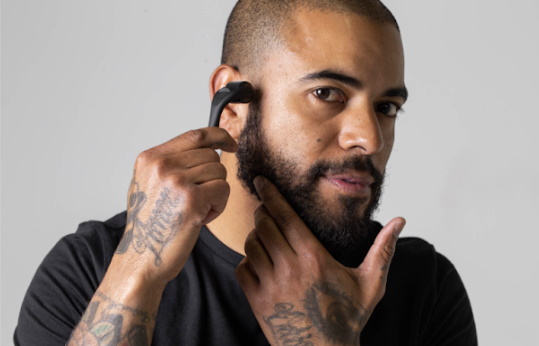 To combat beard woes, Aussie-born haircare brand Folli developed the ultimate facial hair growth dream team with their Folli Beard Growth Kit, an all-star line-up of their signature Derma Roller For Hair Growth and their best-selling all-natural Hair Growth Spray. 
"Growing a beard can be an immensely frustrating endeavour and ultimately a point of insecurity for many," explains the Founder of Folli, Trung Vien. "The key to healthy hair is a healthy scalp and the same applies for facial hair, so naturally to achieve a full beard, you must start with the skin." 
Folli's Derma Roller For Hair Growth is a device covered with fine 540 gold titanium needles that when rolled over the face penetrates the skin's barrier creating nanoscopic cuts. Microneedling is a widely touted cosmetic procedure, renowned for its potential to improve skin health, but its benefits go far beyond complexion with the capacity to promote facial hair growth. 
"Through the process of micro-needling the dermal roller induces the body's healing reaction which stimulates two different processes essential for hair growth and strength; boosting blood circulation and promoting the production of collagen," continues Trung. "Collagen is an amino acid that makes up the building blocks of your hair and healthy blood circulation allows for the regeneration of hair follicles." 
The Hair Growth Spray is a hybrid product that can be used to treat many areas, including the beard and head. The dedicated team of Hair Folli scientists have created a formula that aids in stimulating your follicles, while also helping you improve the thickness and look of your hair. Incorporating a variety of natural botanicals, the hero ingredient in our formula is the Kakadu Plum, which has the highest concentration of Vitamin C out of any fruit on the planet. 
Folli's Hair Growth Spray rejuvenates thinning and damaged hair with its nutrient-dense formula of superfoods. Licorice root extract, Nigella Sativa seed extract, Piper Nigrum Seed extract and Panax Ginseng Berry extract, work to offset lifestyle stress by directly nourishing your hair follicles, breathing life back into your hair
The Folli Beard Growth Kit is available online at hairfolli.com for $80.08.