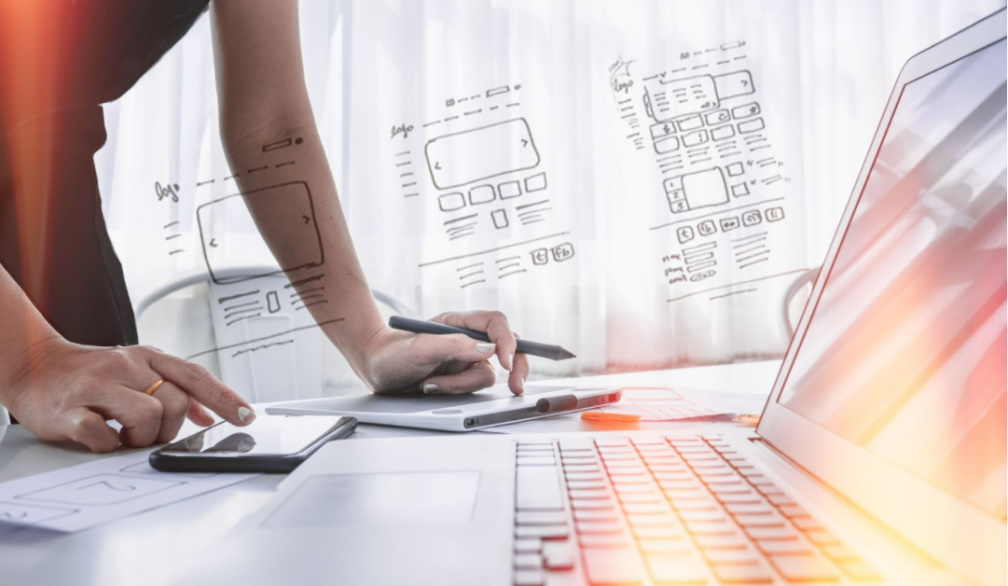 If you're browsing a website, using an app, shopping online, or asking Siri a question, you're interacting with a user interface (UI). In a nutshell, UI exists for many users at the moment when technology meets people in the user journey. A good UI designer ensures that their UI is seamless enough that users don't feel compelled to 'look behind the curtain', unless of course, they're interested in UI just like we are!
A UI designer uses UX methodologies to make applications that are intuitive and easy to follow. It's usually a graphical display, like on a website or app menu, but voice-activated, natural language interfaces are also gaining popularity.
Simply put, UI is the perfect combination of technology and creativity, and the demand for talented people in this field is growing by the day. So if you are looking for a career with high pay, plenty of job opportunities and the opportunity to be creative, this article will outline how to become a UI designer in the present day.
What Is The Role Of A UI designer?
A UI designer, also known as a user interface designer, works closely with a user experience designer (UX designer) to design a seamless user interface, but there are two key differences between the roles. Whilst UX designers are generally tasked with designing the constructs or technological foundations behind user-facing processes, user interface designers are tasked with creating the look and feel of those processes as they appear to the user.
UX designers help users navigate by programming buttons, swiping, and other gesture mechanics, whilst UI designers outline which mechanics are best suited to that particular interface or that particular point in their user journey map. Oftentimes, UI designers will be the professionals that are presented with problems that need to be solved as they appear on the user journey map, with these problems either being caught by themselves or through UX testing. UX designers are the people solving the problem using the findings of UX tests that are provided by both UI and UX designers.
Whilst you may be thinking at this point that UI designers are essentially interchangeable with graphic designers, we'd like to say that this is certainly not the case. There are plenty of technical concepts that UI designers must be acquainted with in order to develop intuitive user journeys. The role of a UI designer becomes increasingly clear when you consider that 38 percent of people will abandon a website if it is unattractive and 42 per cent of consumers are not likely to make a purchase from an unattractive website.
Let's look at a few other stats here to put the importance of UI design as a discipline into greater perspective. More than 1.83 billion websites are recorded to have existed in 2021. The number of mobile applications for Android and iOS combined is over 4 million. Alongside this, there are over 4 billion internet users worldwide. This means there is a lot of scope for work in this field and many opportunities for a creative career path, a chance to make an impact, flexibility and variety, as well as collaborations that allow you to explore new areas and find out more about exciting new technologies. UI is just as expansive a discipline as it is unmapped, making it an ideal career pathway for any tech-savvy young people with a keen interest in innovative and intuitive design.
A UI Designer Must Possess Certain Skills and Traits
It is not easy to become a UI designer. If you want to succeed in this career, you will need specific skills and traits, including:
Having the drive and a passion to succeed - Attitude is crucial for success as a UI designer, and the discipline involves a healthy amount of collaboration and mutual learning. You won't get very far if you don't have a desire to learn and grow in tandem with your fellow UI designers.
The ability to collaborate and be part of a team - UX and UI designers usually work in a team with other product developers. Other team members may include designers, programmers, marketers, salespeople, and more, so not just UI/UX designers. Therefore, it is important to be comfortable communicating and working with colleagues from all disciplines and at all levels. 
An eye for design and aesthetics - A product's aesthetics refers to the way it looks and feels. A product's first impression is often visual, so aesthetics naturally play a critical role. Layouts that are attractive complement the usability of designs, and thus innately enhance functionality for the user. UI designers generally use UX laws to guide their design decisions.
Learning a few UX design principles is the first step towards practicing design in real-world contexts or on genuine case studies. Seeking out these opportunities will enable you to enter the world of design and start thinking creatively from the get-go. You will also be able to learn how design is psychologically influenced, providing human insights into why certain designs look good and why others fail. 
Below is a list of some basic principles you should also understand if you're looking to dabble with UI design:
Colour -

It is important that you understand the vocabulary, fundamentals, and psychology of colour. By engaging with colour psychology and other colour theories, you can better communicate the messages or intended user actions behind your user journey map. The use of colours is likely to be mentioned prominently in any UI design plan. A brand or product's colour can define its mood, tone, concept, and connotation.
Balance -

Harmony and unity are the hallmarks of a balanced composition. In terms of the user experience and journey, a visually balanced user interface is particularly important. A balanced interface effectively improves the usability of a site or other user experience greatly.
Contrast -

Organisation, hierarchy, and focus can be achieved through contrast. User attention can be captured and attracted to specific elements using contrast, supporting intuitive navigation, and other considerations for boosting usability like accessibility.
Fonts and typography -

The quality of UI depends on font choice and readable text. Despite the plethora of other visual and animated elements that go into any user interface, text is still how most people receive information in digital interfaces, so it's the designer's responsibility to ensure that the typeface and

typography behind their UI

conveys their intended message rather than detracts from it.
Consistency -

Designing intuitive and usable interfaces is the end goal for all UI and UX designers. When designing a user interface, consistency is ensuring all elements are uniform in appearance. This creates control, familiarity, and reliability for users because they have constant evidence that their assumptions about the interface are correct.
Consider a UI/UX Design Bootcamp or Online Course
Take an introductory design course before moving on to a UI/UX design certification course geared toward preparing you for a career in the field. The process will help you learn skills such as information architecture, wireframing, prototyping, and visual communication.
Make sure the course will allow you to build a portfolio (to show employers) and connect you with an industry professional who can answer any future questions that you may have about the profession as a whole and may thus, help you design your future career pathway.