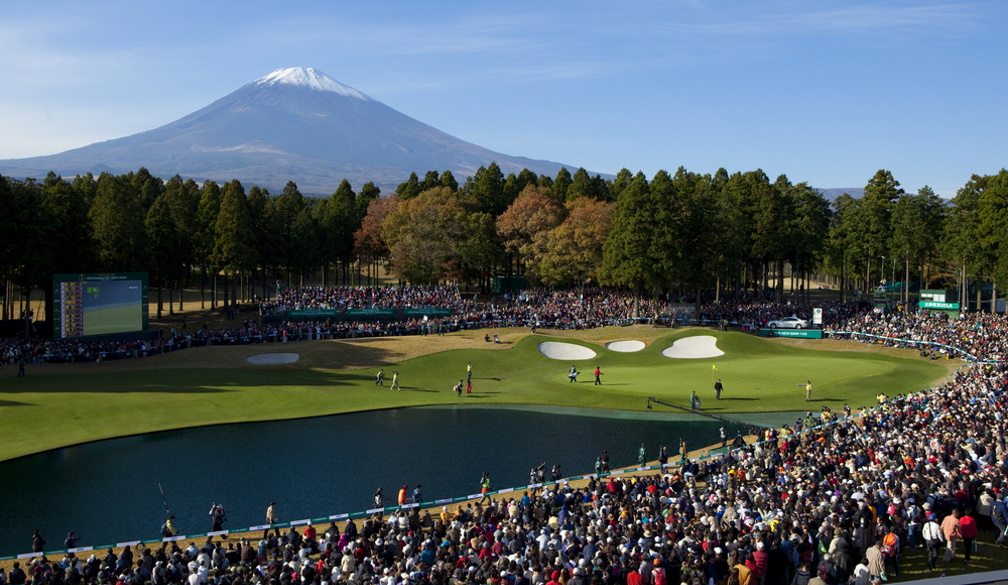 In a comparatively short time, Japan has vigorously refined and redefined the elite standard for golf courses, creating golfing destinations that have earned spots on top 100 lists worldwide.
While the sport only arrived in Japan around the turn of the twentieth century, with the nation's first golf club founded in 1903, today Japan has the third-highest number of golf courses in the world (2,227), behind Canada (2,265) and the United States (14,640).
We've rounded up the best places to go a round in Japan - the most stunning, the most secluded, the most elite and the most memorable.
1. Karuizawa Golf Club,Kitasuka-Gun, Nagano
A full-scale tounament course tailored to match needs of the top professionals of the game. Among the six Karuizawa 72 Golf Course, this course is of the highest grade. Although laid out on the great expanse of flat land, the course is skilfully dotted with ponds,bunkers and other hazards, and its varied 18 holes are always kept in conditions on par with the expectations of the top players - a real treat for any true lover of the game. Five stunning lodges are located within a ten-minute drive from the courses. For more things to experience in Nagano, visit https://www.japan-guide.com/e/e6000.html
2. Kawana Fuji Golf Course, Shizuoka Prefecture
Widely regarded as the symbol of the quintessential Japanese golf course - breathtaking views make this one of the most scenic — and the priciest — golf course in Japan (at ¥41,100 for play). Make it worth your while and stay for the weekend at the adjacent Kawana Hotel, a dreamy golf resort. https://www.princehotels.com/en/golf/kawana/fuji/
3. Osaka Golf Club
One of Japan's premier golf course architects, Osamu Ueda, designed this oceanside course - the sea breeze toughens even the most seasoned golfers, and the views and sounds of the waves in the background provide for a memorable play. Within Ueda's long career, he considered Osaka Golf Club's course his masterpiece. https://www.golfjapan.jp/golf-courses/osaka/osaka-golf-club/
4. Gotemba Course at Taiheiyo Club
The Gotemba course, which is owned and operated by Taiheiyo Club (Japan's largest golf club), drew worldwide attention when it hosted the World Golf Championship EMC World Cup late in 2001. Such luminaries as David Duval, Tiger Woods, Ernie Els and Retief Goosen were in attendance—the latter two emerged victorious. The rolling parkland layout moves through dense evergreen groves under the shadow of Mt. Fuji, which is almost always visible in the background. In the winter the rough turns from green to brown, but the snow makes the great mountain even more spectacular. http://www.taiheiyoclub.com/gotemba
5. Hirono Golf Club, Miki
The environment of this course in Miki - not far from Kobe - is reminiscent of the undulating heath and sandy soil familiar to the British designer Charles H Alison's home country around Berkshire and Surrey. Though the designer did not remain in Japan to oversee all of the work, he left behind detailed sketches that enabled local designers Seiichi Takaharta and Chozo Ito to realize his vision, so that the resulting course seems as if it had been transplanted wholesale from Britain. Of particular note here are the bunkers, which were so revolutionary in Japan that they have come to be called "Alisons". The course suffered a great deal during the war and reconstruction efforts afterward, but subsequent work has brought Hirono back in line with Alison's vision. https://www.planetgolf.com/courses/japan/hirono-golf-club
6. Kanazawa Central Country Club, Kanazawa
This unexpected gem is one of the most beautiful courses you might ever play on. Challenging, varied and spectacularly beautiful (particularly in Autum). 18 holes, cart, clubs and lunch cost about AUD$140.Players are able to use the natural hot springs and sauna (weekends only) after their rounds. https://visitkanazawa.jp/
For more Japan travel ideas, visit https://www.japan.travel