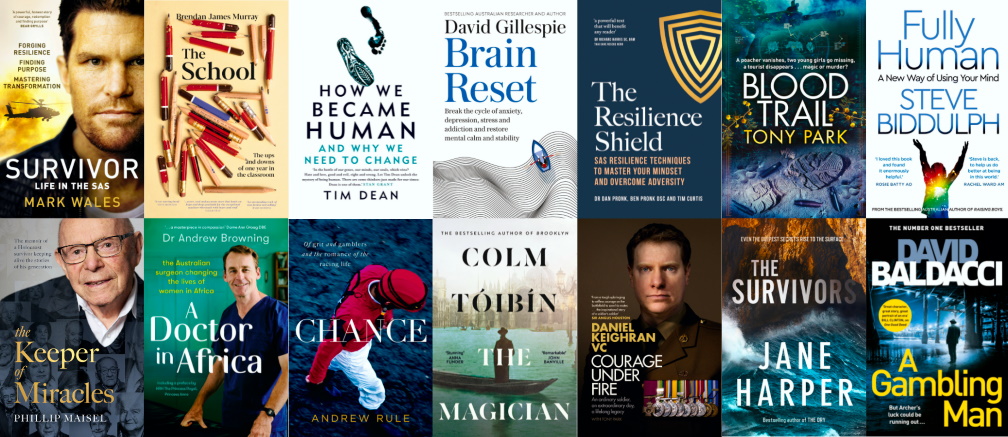 Ahead of Father's Day on 5th September, here are some of the latest Pan Macmillan releases, ideal for all the Dads out there who deserve to be spoiled this year!
Mark Wales' extraordinary life in and out of the Australian SAS, an inspiring story of resilience and transformation
A portrait of one teacher and his class as they journey through the ups and downs of a school year.
Here one of Australia's brightest philosophers charts the evolution of morality from the first humans to today, and shows us how we can turn towards a better future.

Australia's most trusted researcher teaches you how to break the cycle of addiction, anxiety and depression and reset your brain.

Three Australian SAS veterans reveal their groundbreaking resilience techniques to master your mindset and overcome adversity.

A poacher vanishes, two young girls go missing, a tourist disappears. Is it magic or murder? Blood Trail is Tony Park's latest fast-paced thriller.

Become a more expansive, integrated and energised human by understanding the brain, emotions and body and our unique capacity for growth.

The memoir of a Holocaust survivor keeping alive the stories of his generation.

The Australian surgeon saving the lives and dignity of thousands of women in Africa, one surgery at a time.

An insider's account of the characters, triumphs and scandals that have propagated the grand spectacle of Australian horse racing.

In this novel, 
The Magician
, Colm Tóibín captures the profound personal conflict of Thomas Mann's very public life, and through this life creates an intimate portrait of the twentieth century.
A revealing and frank memoir from Daniel Keighran, an unlikely candidate to receive the Victoria Cross.

The compelling new novel from Jane Harper, the internationally bestselling author of The Dry - now available in B format.
The gripping second historical crime novel in the Aloysius Archer series following the Sunday Times top five bestseller One Good Deed.