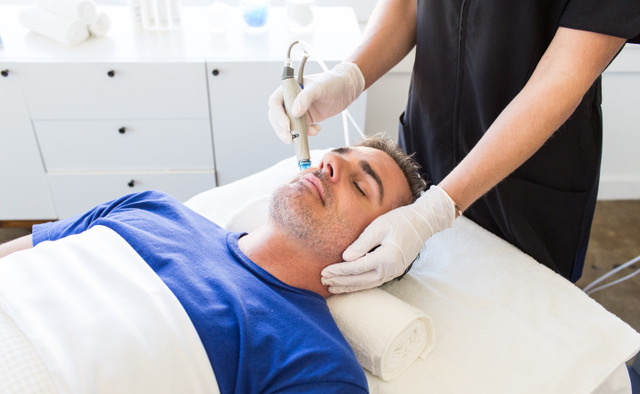 Created by The Hydrafacial™ Company, a leading aesthetic skin health technology manufacturer, the Hydrafacial is an advanced non-laser skincare system that provides instantly noticeable skincare results in just 30 minutes. 
Hydrafacial is a unique serum-enhanced procedure that uses patented technology to cleanse, extract, hydrate and bathe the skin in nourishing super serums, which can be personalised for different skin needs. 
The treatment is soothing, refreshing, non-irritating and immediately effective in improving skin tone and texture. Regular treatments improve the appearance of fine lines, wrinkles, enlarged pores, congested skin and brown spots, while enhancing long-term skin health over time. 
Every year more than 2.5 million Hydrafacial treatments are performed around the world, which equates to one Hydrafacial every 15 seconds.  
Packed with vital nutrients like antioxidants, peptides and hyaluronic acid, the Hydrafacial super serums create an  instantly gratifying glow, but it's how these serums are delivered into the skin that makes Hydrafacial so unique. 
How does it work? 
Hydrafacial uses a patented Vortex-Fusion® delivery system. This vacuum technology creates a vortex effect that  easily dislodges and removes impurities deep into the skin, replacing them with hydrating skin serums filled with  antioxidants, peptides and hyaluronic acid. This allows for non-invasive skin resurfacing to effectively cleanse,  exfoliate and extract impurities while delivering the nourishment skin needs – where it needs it – for optimal health. 
The Hydrafacial works in three stages or 'steps', initially with a medium level of suction and cleansing, followed by  a much deeper pore extraction stage. In the final stage, the pneumatic (air) pressure is reversed, to infuse the skin  with the super serums, leaving skin looking younger, fresher and more radiant.  
The treatment increases an uptake of antioxidants, peptides and hyaluronic acid into the skin, resulting in longer  lasting and faster results than manually applied creams. Each serum is designed to target a different skincare need  while also revitalising and restoring skin without irritation and redness.  
The Hydrafacial patented technology takes non-ablative facial rejuvenation to a whole new level that creates an  instant and long-lasting glow with no downtime. With three easy steps and optional boosters to target your skin  needs, Hydrafacial works to restore skin to a youthful, healthy state.  

STEP 1: CLEANSE + PEEL 
Uncover a new layer of skin with gentle exfoliation and relaxing resurfacing.  
o Cleanse: Activ-4™ serum removes dead skin cells to reveal  
healthy skin 
o Peel: GlySal™, a mixture of glycolic and salicylic acids, delivers  
the benefits of a peel without post-peel scaling

STEP 2: EXTRACT + HYDRATE 
Remove debris from pores with painless suction. Nourish with intense 
moisturisers that quench skin. 
o Extract: Patented, automated vortex suction painlessly cleans  
out pores with the exclusive Beta-HD™ serum 
o Hydrate: Antiox+™ serum nourishes and protects with  
Antioxidants, Peptides,and Hyaluronic Acid 

STEP 3: FUSE + PROTECT 
Saturate the skin's surface with antioxidants and peptides to maximise your 
glow 
o Fuse: Targeted, proprietary skin solutions are delivered to address  
specific skinconcerns 
o Protect: Maintain results at home with Daily Essentials™ featuring  
the same ingredients used in the treatments 

THE ADD-ONS: 
Hydrafacial can be combined with booster serums, such as Hydrafacial's Dermabuilder serum, or other treatment  modalities such as micro-needling, laser and IPL to address specific skin concerns.  
Additionally, the beloved Hydrafacial Perk allows doctors and therapists to customise their client's Hydrafacial  experience by adding Perk Lip and Perk Eye, the refreshing treatments that gently cleanse and hydrate the most  delicate parts of the face and allow users to take the same vial used during treatment home, to extend the benefits.  
How many treatments are recommended? 
Skin restoration and radiance is noticeably improved after just one Hydrafacial treatment. Results from each  treatment will last for longer after each treatment. A series of six treatments is recommended for improving the  appearance of fine lines, acne, wrinkles and hyperpigmentation.  
How long does a Hydrafacial take? 
Each treatment takes less than 30 minutes and you can return to work or activities immediately. Any redness will  dissipate within 5 to 10 minutes. 
How much does it cost? 
Treatments start at $175-$200, depending on your skin concerns. 
The Hydrafacial treatment is available at select cosmetic-medicine clinics and skincare spas around Australia. For  more information and location of the nearest Hydrafacial Clinic, visit http://www.hydrafacial.com.au.

About The Hydrafacial Company 
Since 1997, The Hydrafacial™ Company has been a leading aesthetic device manufacturer, pioneering hydradermabrasion with both Hydrafacial  and Perk™ products. Based in Southern California, The Hydrafacial Company's products are popular in over 87 countries worldwide. With over  12,700 customers and over 2.5 million treatments performed per year, The Hydrafacial Company is revolutionising skin health for aesthetic  professionals and their clients. For more information, visit the brand on LinkedIn, Facebook, Twitter, Instagram, or at Hydrafacial.com.au.