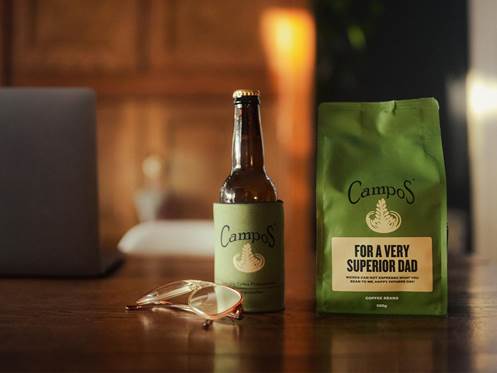 Father's Day Superior Blend


Caramelly & Rich Blend. Sweet like Butterscotch. Flavours like Red Fruit & Apricot.


RRP: from $15.50 available
here


This Father's Day, Campos has done something special for all the coffee loving dads out there. The Campos signature Superior Blend has received a limited-edition makeover with a twist, all coffee information has now been replaced by a joke, a Dad Joke.
This makes for a perfect, thoughtful gift with a bit of 'roast' for the special man in your life.
As a bonus crowd pleaser Campos is offering a free stubby holder with their Signature Blend for a limited time (promo code: STUBBY). Make sure you get in quick, as quantity is limited; so your dad can pretend his morning coffee is fresh out the glory days.
Campos Superior is our signature, quintessential coffee blend. It's what we've proudly served in our cafes since day one. Combining fresh high-quality specialty coffees from our coffee producing partners in Ethiopia, Kenya and Colombia, this full-bodied coffee is carefully roasted to deliver sweet caramel, butterscotch and milk chocolate flavours to your cup.
We pride ourselves in our Superior Blend tasting consistent and even as we continue to grow, we still spend hours every day cupping and analysing it to ensure it tastes just right, every single time.
SOURCING
The quality always starts with the bean. A handpicked selection is chosen for this blend. We don't believe sub-standard beans should ever exist, let alone be hidden in a blend. In fact, what most roasters have as a 'special, one-off', we use as the standard ingredient in our flagship Superior Blend and this will never change.
CONSISTENCY
We're all about consistency. Coffee production is seasonal so we scour the globe all year round following harvest time. But as we all know, coffee can taste different from one hill to the next, let alone region to region and country to country.
We pride ourselves on our Superior Blend tasting consistent all year round, and spend a lot of time perfecting it. We quality control, taste and assess our Superior blend every day, 365 days a year. And often more than once a day. It's imperative that our blend delivers on the Superior Blend flavour we've become known for.